bleached wood look with liming wax
Some affiliate links are used at no additional cost to you. Thank you for supporting my blog! For more information, visit my Disclosure.
You guys, I am in love with the new look for
my kitchen table
.  In love!
I ended up using
Briwax Liming Wax
, thanks to the suggestion of Cassie from
Primitive & Proper
(the woman is a furniture whisperer).  It gave me just the look I was going for and couldn't have been easier.  After sanding the table down I just waxed it on.  No messing around with paints or drying times.  It made my impatient little heart jump for joy.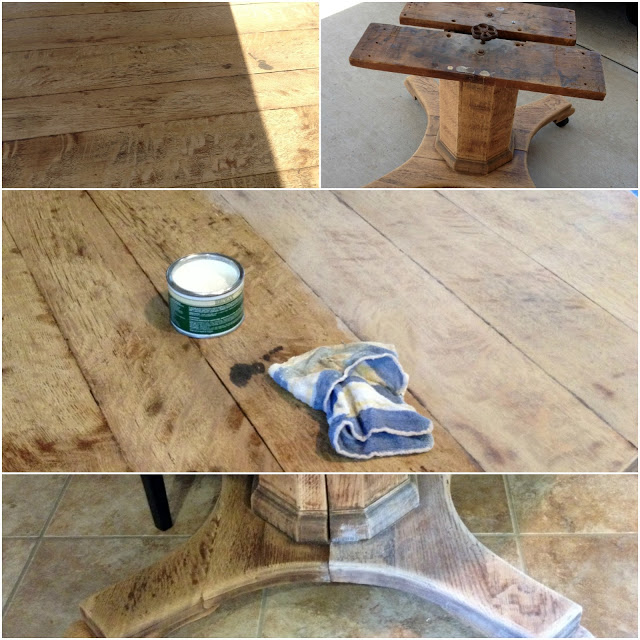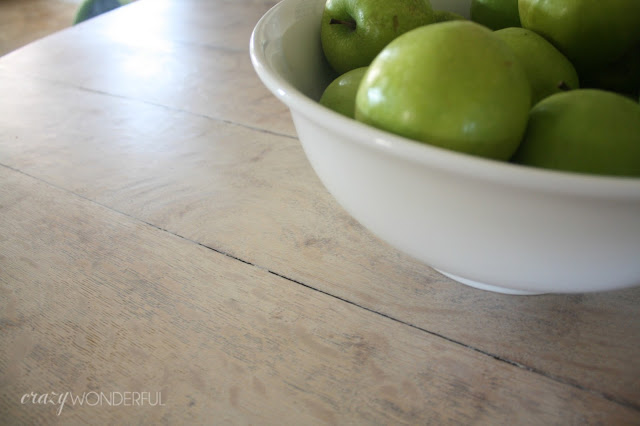 Totally digging how the wax sort of fills in some of the cracks and chips in the wood and looks chalky.
Now I will say I am NOT loving how it looks in this house.  It blends in with the walls, and I cringe when I look at how it conflicts with the tile.  But, I think once it's in the new house sitting on top of dark wood floors, she's gonna look good.  Real good.  Fingers crossed 😉
Remember the old 80's computer chair casters I mentioned needing to replace?  I went to the home improvement store to see what they had and ended up leaving with these ball casters, but I'm not feeling it.
They just don't look right do they?
Here's a side story for ya.  While I was looking at caster wheels a man walked by and was smiling at Sam as he sat in my shopping cart.  He even came over to tickle him.  NOT thrilled about the tickling, but let it go.  Then he walked back by and I noticed he was recording video of Sam on his phone!!!!  WTF?!  I almost went Momma Bear on the guy.  After trying to approach him about it (apparently he doesn't speak English) I hauled ars out of there.  And spent the rest of the day thinking he was going to find me and kidnap my child.  What is it with people?
Anywho… back to the table.
Trying to decide if I should put a coat of poly-acrylic on the top.  Probably won't need it since it's wax, but with the wear and tear this puppy is going to see between Izzy and Sam, it might be a good idea.
Have you guys used liming wax before?  I'm addicted.  It's like when you have a can of spray paint or Rub n Buff in your hands and you're aimlessly walking around the house trying to find something else to spray or buff.  I kinda want to lime wax anything I can get my hands on.
Comments
it looks so amazing! and the chairs really pop now! love! very classic!

omg! I love everything about your table. What a night and day difference! Beautiful job my friend!

It turned out totally amazing. Loving it.

I love the toy on the stairs. :o)

The guy taking video creeps me the eff out.

LOVE! It looks amazeballs!! I can't believe it only took wax to come out like that! I'm going to have to work on my hubby to do something similar. I feel like the older Evie gets, the worse it's going to be for our dining table.

What the heck with that guy at the store? What is wrong with people!? Bizarre.

OMG… I can't wait to try it. I've been wanting to do something with my wood stuff to make it look beachy. this is perfect
thanks

What cool stuff! It looks great, and I love how it brought out the planks in your table – you didn't really see them before. So pretty! I think it'll look great on dark floors. Have you thought about the simple metal casters from IKEA that you can stick on the bottom of the Expedit shelves? Or you could just stick felt feet on the bottom and call it good. 🙂

Wow!!! This looks so amazing!!!

I think I'm in love! Now, tell me, did you strip the table or just sand it first? Hate that their are weirdos out there, but man, I would love to see you go Mama Bear on someone.

Oh my goodness…what a great transformation! Love the bleached out wood and it looks brand new! Great job!!

Okay, just now catching up, and WOW, your table looks fantastic!!! Well done friend. 🙂

love the liming wax!

You shoudl have reported him to the store. I just read an article about Eastern Europeans coming over here and kidnapping kids and going door to door at people's home asking if any children live in the house and such. I would have been worried he followed me home! Not to freak you out, but you can't be too careful.

EXACTLY what I wanted to see for my old beat up pine dining table…and will be done for Christmas company! Thank you for posting…ordered a can already!

Hi! Am getting the liming bug myself and was hoping to do this to my 7year old scratched up Pottery Barn table -it has about the same dark stain as your's did…..so I really just need to sand the heck out of it then apply the wax???

It depends on if the table is solid wood or not. If it is, then sand away! If it has a thin veneer I wouldn't sand it. It probably won't end up having much wood grain at all. Hope this helps!

I realize this is an old post, but you can suck the stain out of wood with Citristrip. I've done it on 15 antique doors and it is A-MAZING. I'm down to bare, gorgeous, raw wood that doesn't even need sanding. I hate to sand. Anyway…. Just a thought if you're dealing with dark wood.

I must say that its really nice creations and the look are awesome so i just say that i will promote your post and you also promote your work.

If you look up Briwax Grain Filler – you'll see that the white version will give a liming effect on wood, but allows for varnish or a finish to be applied over it. Just for future ref.. 😉

Love this DIY!!! I'm so doing this now to some furniture I have. Great tip.

Love it. Question for you!:
How does this hold up to wine stains/cup rings/food stains?
Did you end up putting a finish on it?

After a month of use I noticed a cup ring from a glass of ice water sitting on it over night. I ended up putting a coat of poly acrylic in a satin finish on just the top of the table. It didn't change the look of the table at all and I haven't had any more problems with rings or food stains. Hope this helps!

I love this! I was looking for something to do with my ugly golden oak table. Did you strip off any stain first, then sand? Or was your piece already stripped? Is it necessary to strip do you think?

I didn't strip anything first, I just used a mouse sander with a really rough sand paper. There was still some of the previous stain left over, but I don't think it affected the outcome. The like wax really cute through the yellow oak color. Best of luck on your table!

So you just sanded down to the raw wood and then applied the liming wax? Did you use a wire brush before liming or just rough sand paper? I appreciate your help!

Just sanded it down with a rough sandpaper and then wiped on the liming wax. Super simple!

Really appreciate you sharing this technique, Shelley. Will try it on a bathroom plank ceiling I'm installing.

If you sand and then buff with liming wax, and you don't like it … can you simply sand again and re-stain then poly?

I once tried sanding a piece of furniture that I didn't realize had a wax finish and it ended up gobbing up on the sandpaper. I've not used it before, but I know you can find furniture wax strippers out there to remove it if you don't like the look. You can then refinish it to your choosing after that.