You guys, I am in love with the new look for
my kitchen table
.  In love!
I ended up using
Briwax Liming Wax
, thanks to the suggestion of Cassie from
Primitive & Proper
(the woman is a furniture whisperer).  It gave me just the look I was going for and couldn't have been easier.  After sanding the table down I just waxed it on.  No messing around with paints or drying times.  It made my impatient little heart jump for joy.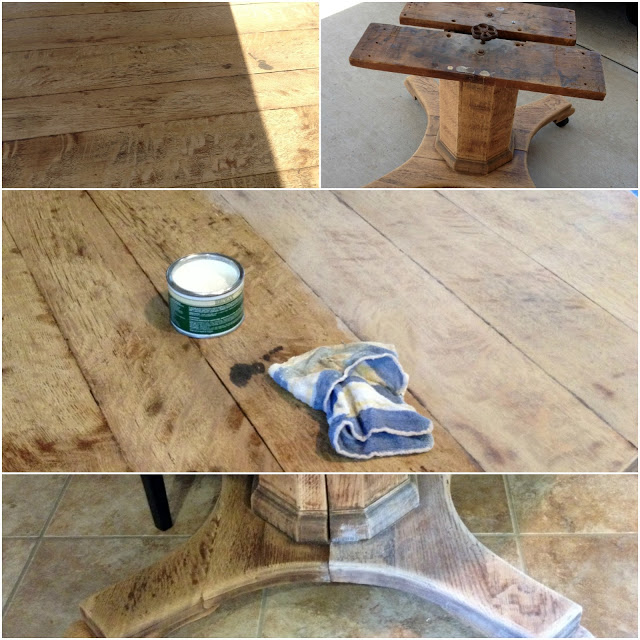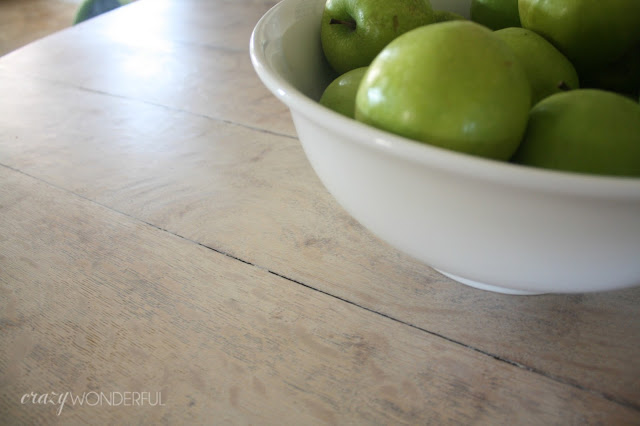 Totally digging how the wax sort of fills in some of the cracks and chips in the wood and looks chalky.
Now I will say I am NOT loving how it looks in this house.  It blends in with the walls, and I cringe when I look at how it conflicts with the tile.  But, I think once it's in the new house sitting on top of dark wood floors, she's gonna look good.  Real good.  Fingers crossed 😉
Remember the old 80's computer chair casters I mentioned needing to replace?  I went to the home improvement store to see what they had and ended up leaving with these ball casters, but I'm not feeling it.
They just don't look right do they?
Here's a side story for ya.  While I was looking at caster wheels a man walked by and was smiling at Sam as he sat in my shopping cart.  He even came over to tickle him.  NOT thrilled about the tickling, but let it go.  Then he walked back by and I noticed he was recording video of Sam on his phone!!!!  WTF?!  I almost went Momma Bear on the guy.  After trying to approach him about it (apparently he doesn't speak English) I hauled ars out of there.  And spent the rest of the day thinking he was going to find me and kidnap my child.  What is it with people?
Anywho… back to the table.
Trying to decide if I should put a coat of poly-acrylic on the top.  Probably won't need it since it's wax, but with the wear and tear this puppy is going to see between Izzy and Sam, it might be a good idea.
Have you guys used liming wax before?  I'm addicted.  It's like when you have a can of spray paint or Rub n Buff in your hands and you're aimlessly walking around the house trying to find something else to spray or buff.  I kinda want to lime wax anything I can get my hands on.