DIY skirted table | no sew
Some affiliate links are used at no additional cost to you. Thank you for supporting my blog! For more information, visit my Disclosure.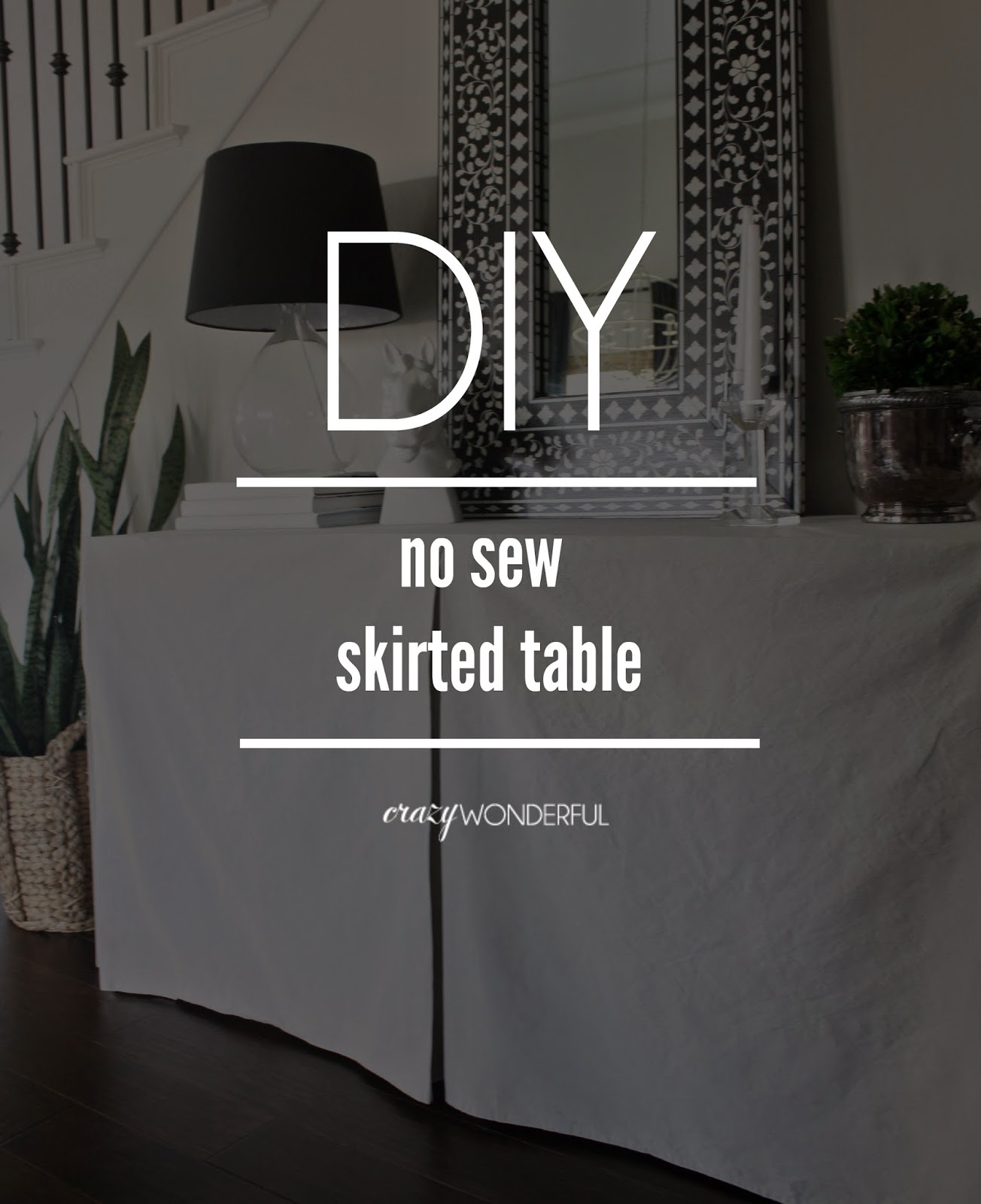 I started with the old buffet that was in the dining room in our last house. I don't hate it, but it's missing a pull, and it felt out of place here. I wanted something cleaner.
A piece of plywood, a drop cloth, and a few staples later I had this!
It ended up being a much simpler task than I expected. I thought I was going to have to pull out the sewing machine at some point, but worked my way through without it. Woop, woop to that!!!
STEP ONE: Cut a piece of plywood to cover the top of your table. This is if you don't want to staple directly to the table or if you have a table that is curved, like mine.
STEP TWO: Cur a piece of drop cloth to cover the top and sides of your plywood. Pull snug and staple to the bottom, not the sides. You want the sides free of staples so you can staple the skirt in place later.

STEP THREE: Cut the piece or pieces for your skirt. To keep this a no sew project – use the drop cloth's existing hem as your skirt's hem. Measure your drop and add on a couple of inches for stapling. Kinda hard to see, but the photo below shows the existing hem.
STEP FIVE: Start stapling your skirt onto the sides of the plywood top. To keep it nice and crisp along the top, you can cut a strip of mounting board (or thick poster board) and place it between the underside of the fabric and the staples.
STEP SIX: Flip your fabric down and enjoy!

TIP: If you can't get enough width out of the piece of drop cloth to continuously go around the front and sides of your table, you can add in a new section by hiding it behind a pleat like I did on the left corner. Once the front is folded back down, you can't tell a new section was started.


Comments
You make every DIY look doable. I'm really not a DIYer, but I sure want to be when I see your projects. I will for sure be trying this one. I love it and the mirror looks great there.

it looks perfect! and the way the title is with the slash "no sew" i read "i no sew" and i was like, yeah i no sew either. 😉

You moved the mirror from your bedroom? You'll have to text me a picture of what you have there instead. I thought it looked great in your bedroom! 😄

Gorgeous!! I love me a no sew option 🙂

Oh my gosh, the skirt came out SO great Shelley….I can hardly believe it didn't involve sewing. You are my kind of girl!!!!!!!! And a drop cloth no less. Could this project get any better? I'm thinking this would be great for my folding table that I use at the holidays for a buffet or beverage table. I like how tailored it looks. Thanks so much for sharing!

I'm the same way. I get a wild hare and before I know it, I'm knee deep in something. It turned out really, really cute. I'm still lovin' the crap out of that mirror.
As for Frozen, can you say obsessed much? Baby would watch it 900 times a day if I'd let her. And, I hate to admit it, but it is now my second favorite Disney movie ever. I sing the dang songs all day long. I can't get them out of my head!

oh yes ma'am the plywood top and mounting cardboard are game changers…