new entry barn light
Some affiliate links are used at no additional cost to you. Thank you for supporting my blog! For more information, visit my Disclosure.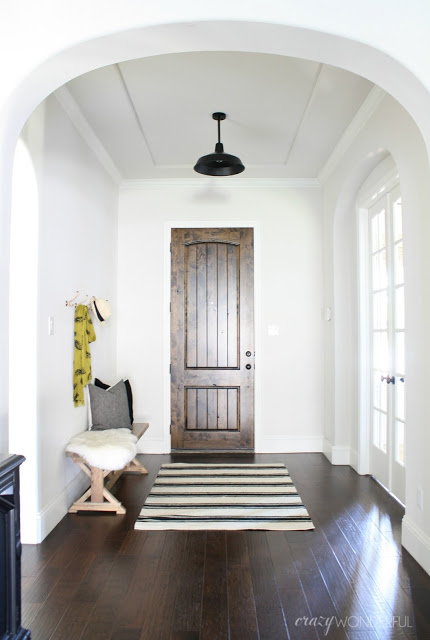 Every since moving in I had been going back and forth as to what type of light I should put up in our entry. All I knew was that I wanted the saggy boob light that came with the house, gone. A few weeks ago I found a good price on a
matte black barn light on Amazon
and went for it. Once I got it up it took me a couple of days to get used to it, but now I'm loving it.
UPGRADE TIP: I couldn't find a pendant barn light (in my price range) that had a solid pole covering the cord. This light came with a small black exposed cord. I beefed it up by cutting down a cheap curtain rod we had laying around the garage, pulling off the wire cover/canopy from the light fixture (the part at the top that meets the ceiling), sliding the cut curtain rod over the cord, and then running the remaining cord back through the canopy before installing the fixture.
This shot below shows the saggy boob light that was replaced. And, also the stairs before we replaced the carpet with wood!
Here's a shot from the front door into the rest of the house. You can see my arch-nemesis chandelier peeking out from under the archway. It collects more dust than my Dyson. I have no clue what to replace it with. Well that's not true. I can come up with all kinds of things to replace it with. They are just no where close to being in the budget. Why are light fixtures so expensive?!!
SHOP THE LOOK:


Comments
Love it Shelley! The stairs look great with the new wood too. Light fixtures are so expensive. I'm kind of regretting not switching out at least one of ours before we sold to a cheap one and taking my expensive one. Your home looks beautiful!

I totally did that with our last house! We made sure the realtors told everyone the dining chandelier wasn't staying. If they liked it, I could tell them where to get another one 😀

Wow. That entry is just stunning. The stairs are gorgeous and the gallery wall, I'm in love. The barn light feels like it fits the space a lot more than the saggy boob. Big lights are such a commitment. I can totally see the PB Amelia beaded chandy in your house, if only it didn't cost a small fortune.

Oh my gosh, I love that chandelier! A friend back home has it and I'm so jealous!

aaah! i LOVE it! so fantastic, shelley!

It looks stunning, Shelley! Couldn't think of a better choice, and Iove the way you used the drapery rod -brilliant!

It was part of a broken rod that I should have just thrown away months ago. Sometimes I'm so glad I'm a hoarder 😀