Today I'm excited to be posting my project for the Ready 4 Summer Blog Party!!!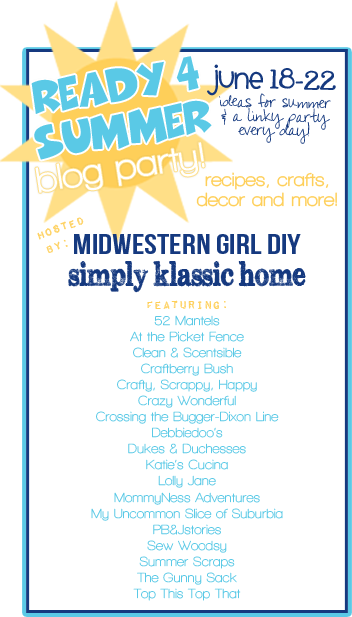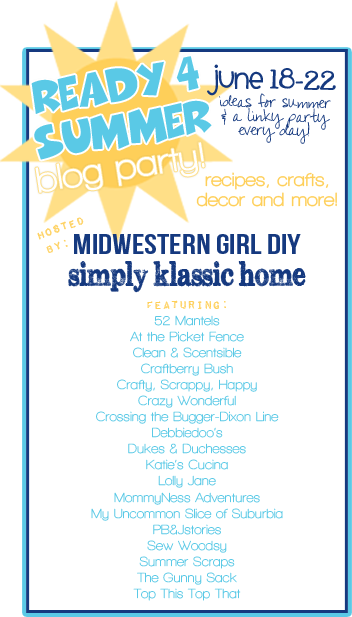 When we purchased our house we were fortunate enough to have it include a playset in the backyard.  It had seen better times and definitely needed some tlc, and with Izzy wanting to be outside 24/7 I figured it was time to finally do something about it.
Now that you've seen the pretty, let me bring on the ugly.  Here's what we started with.
It was sturdy and… well that's about all it had going for it.
You see those green plastic panels on the playhouse portion?  Yeah, when we unscrewed and took them off we found loads of wasp and spider nests inside the crevices.  FREAK OUT!!!  Picture me jumping up and down from foot to foot, arms flailing in the air when I found out my hand had been practically touching a monster spider nest with a huge "friend" inside.  Ugh, I get chills thinking about it again 🙁  Not the place I want my baby girl playing in.
Remove any broken or unsafe pieces –
 The plastic panels went to the curb (along with their inhabitants) and were replaced with pressure treated decorative fence slats.  We just cut them down to the correct length, slapped it up, predrilled to prevent splitting the wood, and then screwed them into place using outdoor decking screws.
Check for loose nails/screws –

Look around for any nails/screws that may have slide out of place over the years and hammer/screw them back into place.  Don't want any little fingers or toes to find those before you do!
Power wash –
I thought I could get it cleaned off pretty well just by using our garden hose and attachment.  Didn't work.  The north side of the set was covered in a green filmy moss.  We ended up borrowing a power washer from some friends, and boy oh boy did it make a world of difference!  It looked a million times better just being power washed, and if you choose to stain your playset it will make that go on much better.
Stain –
What totally freshened ol girl up for me was the coat of stain.  Use an outdoor deck stain.  We went with a natural cedar.  You can tell there's a difference in the color of the new wood pieces and the old, but it's certainly not something that bothers me.
Spray paint –
The slide and swingy thing (no clue what it's really called) were in good shape, just badly faded by the sun.  A coat of primer, a couple coats of paint, and one to two coats of clear went on both.  Be sure to use spray paint meant for use on plastic. 
Replace old swings –
I must have tossed out the extra swing when I put up her pink baby swing so I just ended up buying two new swings.  They were $25 a piece from Home Depot, and really helped update the playset.  Now I don't have to worry about her and her friends arguing over who gets to swing in the pink baby swing anymore 😉
Top it off –
You can find new playhouse tops at most home improvement stores that carry playsets, but I wanted something a little different so I ended up purchasing outdoor fabric and making my own.  Most outdoor fabric is 54″ wide – giving you just enough width to fold the selvage edges over and run a quick seam down the sides.  
I also sewed on velcro in three spots up front and three spot in back.  This attaches to the velcro that I stapled to the roof.  This will make it easy to take the top off in the winter months and put it back on in warmer months.
Fun stuff –
Izzy loves watch Disney's Jake and the Neverland Pirates.  So when I spotted the play telescope while looking for replacement swings, I just had to get it.  She LOVES it and says she likes spying on Ruffino (our dog) the best.  Thank God, because that would have been awkward had she mentioned the neighbors behind us 😀
Now let your kiddos free to go enjoy their newly madeover playset!
And just because I love a before and after pic!
Now go visit Maggie at
Midwestern Girl DIY
and Kristin at
Simply Klassic Home
for more summer projects and to get involved in the daily link parties!