star wars spa party
Some affiliate links are used at no additional cost to you. Thank you for supporting my blog! For more information, visit my Disclosure.
Izzy jut celebrated her 8th birthday last week! She decided to go with a smaller group so she could have a slumber party again this year. I was totally ok with that! She was trying to come up with a theme and couldn't decide between a spa party or Star Wars. So, in true off-the-wall Izzy fashion, we combined the two for a Star Wars Spa Party and it couldn't have been more perfect!
We started with this invitation from Sweet Tea and a Cactus. The shop owner was awesome to work with and for a tiny fee I was able to change the colors and some of the design.
While we may all be over seeing photo booths, young girls are not. Toss in a photo booth and they will flip. I used
these Star Wars downloadable props
and made my own spa props with scrapbook paper. The combination was cracking us up!
After photos, the girls went into our master bathroom which was transformed into a spa for the day. There they received a relaxing foot bath, avocado facials, and Star Wars pedicures.
The girls has SUCH a blast with this! Creating a little home spa for a party is really easy. Think about all the things you love about the spa and recreate that. Here's some of what I did:
Calming background music
Lots of scented candles
Cucumber or other infused flavored water on hand
Scented foot bath with flower petals before pedicures
Hair towels to keep hair out of face for facial mask
Simple avocado facial mask (just mashed up avocados)
Sliced cucumbers for eyes
Stack of rolled white towels for drying
Polishes, remover, and cotton balls displayed on a pretty tray
While we waited on polish to completely dry we had cake. We used one of my husband's vintage R2-D2 cake pans from when he was a little boy. Now, you'll just have to trust me that it's R2-D2 because once I added the strawberry glaze (which ended up way thicker than I thought) it really just looks like a pink trash can, ha! But, it was yummy, and Izzy loved it!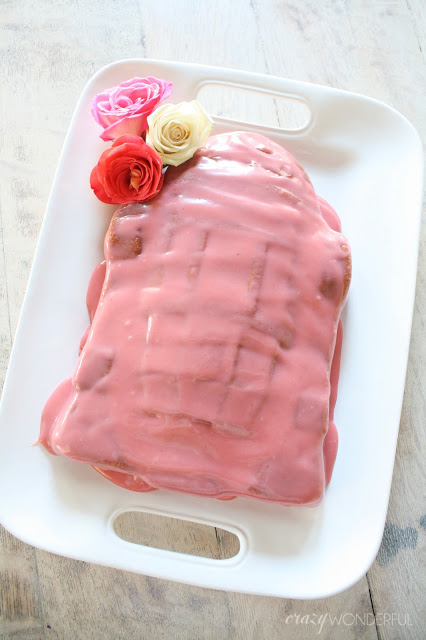 For favors we created these fun bags using a print out of Darth Vader and some flowers. I just love these things 😀
I've got to hand it to Izzy, this was such a fun party. Proves you can combine just about anything and make it work!

Comments
You are THE best mom ever. How creative to combine the two themes instead of making your sweet girl choose. I love how you pulled this girly spa Star Wars shebang off! Too cute!!

Thank you so much, Lisa! It was so fun combining the two!!