The Famous Amazon Drapes
Some affiliate links are used at no additional cost to you. Thank you for supporting my blog! For more information, visit my Disclosure.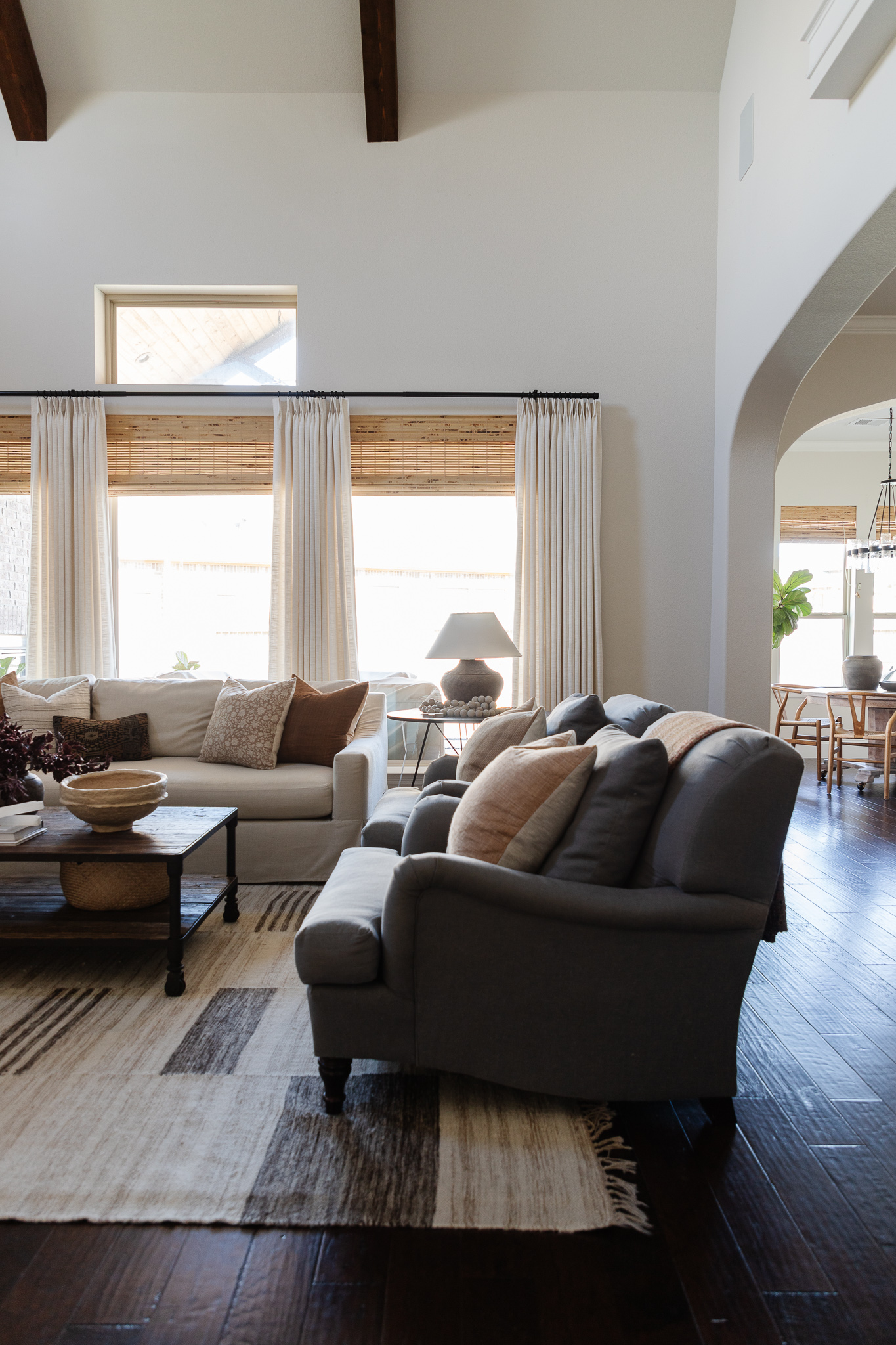 Happy New Year to you all! I have my first change in the house for the year coming at you. When we moved into our house nine years ago I put up temporary "drapes" in our living room using queen sized flat sheets. They were just going to be a place holder until I found the right ones. But, they worked a little too well and nine years flew by with them still up. This week that all changed! Have you heard of those famous Amazon drapes? They're good! Come check them out in my house!
This post is sponsored by TwoPages. Some affiliate links are used at no additional cost to you. Thank you for supporting my blog! For more information, visit my Disclosure.
The timing of these new drapes couldn't have worked out any better. I had already been looking into these drapes off and on for a year because of the incredible price and reviews. Then I would get distracted by another project and never get around to ordering them. Last month TwoPages reached out and I eagerly said yes. When it comes to my blog and Instagram I only want to share products I would chose to purchase on my own. This fit the bill. With that I ordered in some swatches, found my perfect color, and finally went for it. Could not be happier!!!
Drape Style & Fabric
TwoPages offers a few different styles or types of fabric to choose from. I went with the LIZ Polyester Linen Drapes. The feel and texture is absolutely gorgeous.
Drape Color
First off, always order swatches!! I went with a completely different color than I anticipated and it's always best to swatch them in the room you want to use them in. My color is Ivory White 1908-2. Initially I blew right past the whites and went towards the warmer colors thinking the whites were too light. I wanted a tone that tied in more closely with my walls and Ivory White was the winner.
Pleat Heading and Shaping
You have seven heading options or pleat styles to choose from. Mine are the Pinch Pleat. I like that this gives it some structure at the top without being overly fussy.
In addition to choosing your heading style, you can choose whether to not you want your drapes Memory Shaped. Memory Shaping is what makes your drapes lay nicely with the fabric stacked neatly all the way down the length of the drape. I did not opt to have them do this and my drapes still lay beautifully. To do this own your own you just steam out any wrinkles (there were not many at all), pull your pinch pleats to the front of your rod and the fabric between the pleats to the back, and accordion fold your drapes together as they're hanging. If you plan to close and open your drapes often and want to make sure they maintain perfect pleating when they're open or stacked to the side, you can gently wrap painter's tape around the drapes (1/3rd from the top and 1/3rd from the bottom) for about a week to help set in the folds.
Lining
They offer six lining options, from no liner at all to thermal blackout. I went with the Room Darkening Liner which lets in more light than a blackout liner but with enough backing to keep the fabric from being blown out in the sun.
Width and Length
Measuring windows for drapes can seem really overwhelming at first, but they offer a measurement guide on their website making it simple. For my taste, I prefer a drape that is fuller than the recommended width. This gives me that really pretty full look with the pleats sitting tighter together when stacked to the sides. Everyone's windows are different, but to give you a reference, the two outer most drape panels are 72″ wide, and the two inner panels are 60″ wide. This measurement is at the top by the pleats. The extra 12″ on the outside panels gave me two extra pleats, and to be honest I could have gone even wider.
My length is 98″. I wanted these drapes to sit slightly above the floor so they wouldn't puddle or drag. I had them made 1″ shorter than the length from the bottom of my curtain rod to the floor. They're absolutely perfect! I also want to mention that they come with drapery hooks that connect the drapes to your curtain rings and they are adjustable which helps you get a perfect hanging height.
Where I Plan to Add Them Next
When we had the built-ins added to our kitchen nook I took down the sheets I was using as drapes in there. I always wanted to add drapes back in that space but was waiting until I figured out the living room. Cannot wait to add some softness back into that room! I plan to move the bamboo shades up higher so I can hang the curtains closer to the ceiling in there. It's going to look so good!
Custom Drapes for Less
What makes these so popular is that they're less than most custom drapes but equally beautiful. They are able to do this by owning their own factory and cutting out the middleman. Straight from them to you!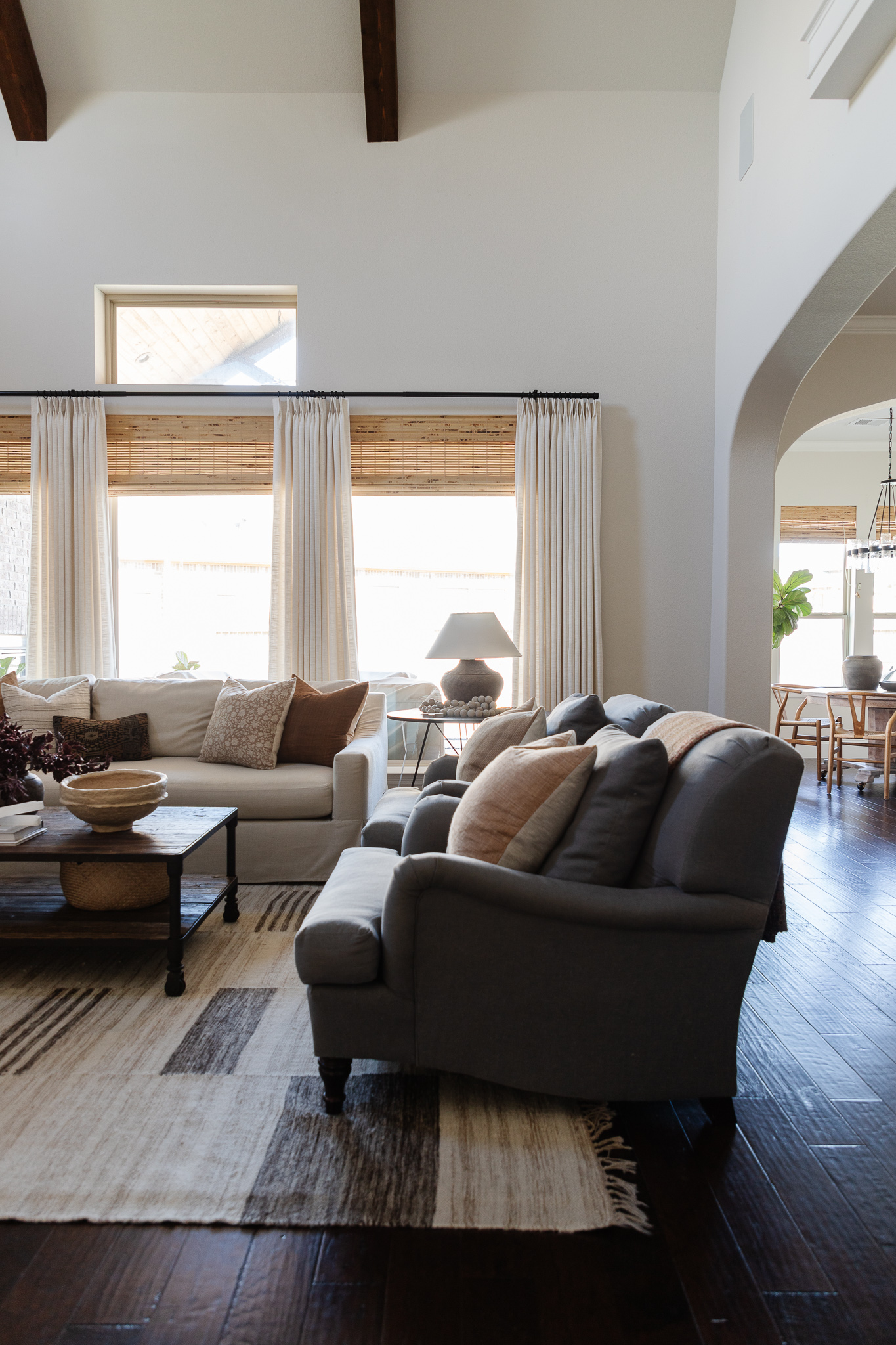 Where to Buy the Drapes + Discount Code
If you don't need a completely custom size, you can purchase from TwoPages on Amazon. If you need a precise custom size you can order from the TwoPages website. Use code CRAZYWONDERFUL for 5% off your order.
They definitely made our living room feel much more sophisticated and finished. What do you think?
Comments
Yes, I really love these change with the pleats, but mostly the texture and the color. Really warms up the living room. Great idea to add the liner. 👏Great choice.

Those pleats make me so happy! And yes, I totally agree with you about the color warming things up.

I've been waiting to buy drapes for my bedroom and this has inspired me to go ahead and buy them! Thanks!

Hi Shawn! I'm so happy to hear you felt inspired!! I have no doubt you'll love them as much as I do!

Love this wall of curtainx look. Can you share the source for the curtain rod? Is that also TwoPages?

Hi Caron! The curtain rod is the HUGAD from Ikea. The end caps and curtain rings are also Ikea. I used a couple sets of rods to create one really long one.