Walk-in Closet Makeover with IKEA PAX
Some affiliate links are used at no additional cost to you. Thank you for supporting my blog! For more information, visit my Disclosure.
There are no words to explain just how thrilled I am with how our closet has turned out! We were able to completely makeover our master walk-in closet and turn it into the closet of my dreams using IKEA PAX wardrobes and a little hacking. You don't have to have a ridiculous budget to have a beautiful closet! If you missed the first two posts on my closet, you can check out my inspiration closets here, and see the progress shots here. There are a lot of photos to share, so I'll keep this as the reveal and will be back with details on how we hacked the IKEA PAX. This post does contain some affiliate links.
Ok, let me give you a quick reminder of what I was working with.
Before
After
Um yeah. It's sooooo much better. Do you see now why I am over the moon excited about it?! Each area will get broken down into more detail.
Linens + Laundry
To the right side of the closet there use to be a narrow shelf where the towels and sheets used to sit/fall off. That was removed and we now have a full wardrobe piece designated for towels, sheets, laundry, and ironing essentials. Baskets keep like items corralled and make it so much more appealing. Our rolling laundry bin fits perfectly inside the wardrobe and can easily be pulled out and taken to the laundry room. Oh, I even have a shelf above the laundry bin for our decorative bed pillows at night. No longer are they thrown on the closet floor, woohoo!
Storage on My Side
Shoe Storage
The shoe storage is so nice! These drawers pull all the way out so you can easily access shoes in the back. Everything that pulls out is soft close so there is never any slamming or shifting. I love that so much about this closet system.
Dress + Purse Storage
For my dresses and items that don't get used everyday like seasonal boots and purses, I added the TYSSDAL glass doors. The main purpose is to keep those items from gathering dust, and a pleasant side effect is how pretty it looks.
One of the many complaints I had about our old closet was how there wasn't enough space from where the bottom of the shirts hung to the rack below it. My husband's dress shirts were always bunched up at the bottom and even hanging over the rod below them. The closet was planned out so there would be plenty of space for long shirts. While there is enough room on my side for an extra drawer below, I love having it open. It's so much easier to dust now without having to dive between shirts to get to the back. Honestly, I was so grossed out by the amount of dust that had collected on the old shelves that I never saw before.
The fabric bins above hold seasonal items like swim suits, gloves, hats, and random items.
Jewelry Storage
These thin drawers are just plain amazing. On one side I added inserts for earrings, necklaces, and rings (they have a bunch of different configurations to choose from). And on the other side acrylic dividers sort bracelets, belts, and other accessories.
Drawers
Having drawers in this new closet is hands down the best part. We basically each gained a dresser on our side of the closet. They're all soft close as well. Hanging space was gained by getting my t-shirts off hangers and going Marie Kondo on them. Now, I wasn't sure I was going to like the folded shirt thing, but I LOVE IT.
Jeans also came off hangers and went into drawers. Ah drawers, I love you so much. Another pet peeve of our last closet was how my underwear, bras, and socks were tossed in flimsy baskets that kept spilling off the shallow shelves. Obviously I'm not going to show you my new underwear drawer, but picture a really nice lingerie store drawer that has everything laying out and organized just so. That's how it looks now.
Storage on His Side
All of my husband's dress shirts go out for laundering so he has a separate basket tucked in at the end of his wardrobe.
Shoe + Sweater Storage
Next to that is his glass enclosed part of the closet. Folded sweaters and boots that don't get worn every day are now protected from dust. The rest of his dress and every day shoes are on pull-out trays like mine below.
Dress Pants + Jeans Storage
Dress pants and jeans are on this neat pull-out rack. We did struggle with the dress pants sliding off the metals arms at first, but I found these velvet grips with a sticky back that made all the difference.
Tie Storage
The rest of his hanging space, drawers, and tote storage mimic what was on my side. Thanks to the drawers, now all of his t-shirts, socks, athletic wear, etc. that were once in the bedroom dresser are in the closet. He is loving being able to get ready in one spot. How great is this pull-out drawer for his ties?! No more sliding off tie racks!
The pull out hooks are great for additional hanging organization, but we love them for valet hooks.
The Mirror
What a difference a large mirror makes in this space! Previously we had an over-the-door mirror leaned up against the wall that did little to assist in getting dressed. I knew a large mirror would be needed, but mirrors can be so expensive! We had a mirror company cut and install this one for us at $360. I added 3/4″ x 3/4″ wood trim that I stained Minwax Classic Gray to the front edges with mirror adhesive for under $20. The cost savings were HUGE!
Little Details
Extra large handles, the same that I used in the playroom window seat drawers, were added to the glass doors. They're clean and simple, but finish off the doors well.
Once the old closet was torn out I knew I would be left with a large blank wall that would be reflected in the mirror on the opposite end. I came across this beautiful sketch at Homegoods and immediately brought her home. She just looks right at home in the closet, and the large size fills the wall perfectly.
The wallpaper backing isn't a detail that gets much attention, but it made a big impact. I'll go into this more when I post about the hack, but the fiberboard backing on the larger PAX units have a large seam running down the middle from where it's folded in half for packaging. To me, it really cheapened the look of the wardrobes. I added this paintable wallpaper to the backs, and after one coat of paint the seam was completely hidden.
Before + After Comparison
For me, the most satisfying part of this closet makeover is looking at the before and after photos side by side. I just cannot get over the transformation!!!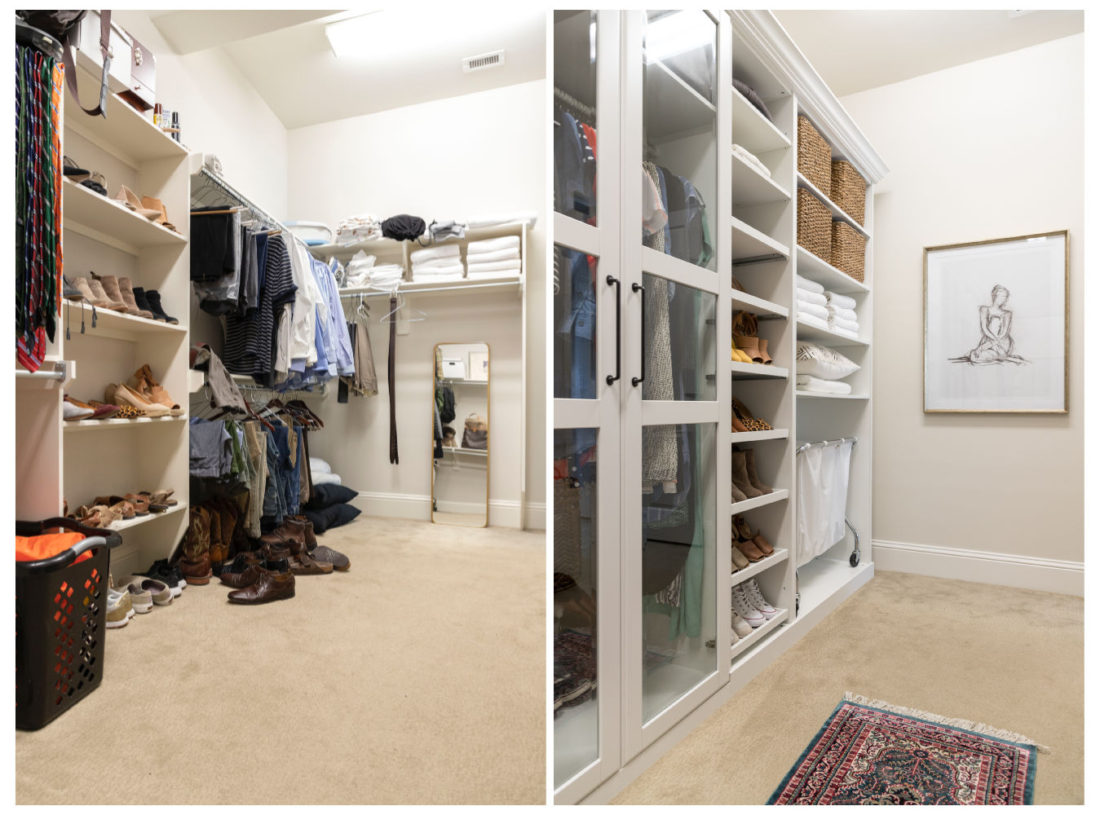 Cost
When pricing out closet systems I was shocked at how expensive they were. For a closet our size, we could have easily spent as much on a nice car. That was NOT going to happen. For the IKEA PAX configuration we went with, including the KOMPLEMENT accessories (hanging rods, shelves, drawers, glass doors) we were a little over $3,000. While still an investment, it felt like pennies compared to other closet systems.
Additional expenses on wood trim, crown, mirror, baskets, wallpaper, accessories, etc. brought it close to $4,000 for the entire makeover.
Since this was DIY the labor cost us nothing but time.
Sources

Ok, I am dying to know what you guys think of our walk-in closet makeover!!! Is an IKEA closet something you would consider?
I'll be back later to share details on how we hacked the PAX!
UPDATE: Click here for details on the PAX hack!
Comments
Your closet makeover brought a huge smile to my face because your before pics look like my closet right now (except that I can't walk in because of all the shoe boxes in the way!) I also priced closet systems and aside from the price I felt like they didn't meet my needs. Some quick searches over the weekend brought me to the Ikea Pax system and further searches led me to your post. I love love your new closet! Your set-up is what I'm looking for minus the glass doors. Your closet looks just like mine except that mine is probably narrower.

By the way, did you rip up the carpet in the closet and then re-install it? The carpet seems to be gone in one of the pics in your "progress" post. We have carpet also and I don't want to get rid of it but I'm afraid that things won't fit properly. Oh, and can I borrow your mom 🙂

I can't tell you how happy it makes me to hear this! That is exactly how I felt when I first came across a great IKEA closet for the first time. I literally dreamt about it for days afterwards 😀 We did not rip out any carpet, it was just covered in a lot of dust in that progress photo. Initially I thought we were going to need to rip out the carpet because I thought it wouldn't be sit level due to the carpet tacks, but by some miracle they sat completely level with the carpet and carpet tacks!

My before is worse than your. Small, dark and cluttered no matter how many organizing tricks I tried. The closet make over it bright, simple and functional. Love love love this closet. I want it and I can see how I can afford it with the,right system. Much better than custom shelves and drawers. EXCITING!!!

Oh I can already picture how awesome your closet could become! I'm already brainstorming it up. Thank you for being my partner in crime on this project, Mom!

Your account is so inspiring. My husband and I purchased our forever home last year. It's a ranch/ farm fixer upper. Our closet is similar to yours but narrower. If I may ask, how many pax wardrobes did you use?

Congrats on your new home, Rebecca! For the long side of the closet (with the linen/laundry space), I used four 39 5/8″ frames and one 19 5/8″ frame. For the shorter side, I used two 39 5/8″ frames, one 29 1/2″ frame, and one 19 5/8″ frame. These are the 22 7/8″ deep frames, but they also have 14″ deep ones as well. They have a really neat tool on the IKEA website where you can input your closet dimensions and create your own combination. I played around with that until I found the best fit. Hope this helps!

Shelley!!!! You have outdone yourself!!! This is amazing! We have a very small walk in closet probably a third of this size but these built-ins would make all the difference. Love the tie pull out drawer, your slide out shoe storage, and that the height of the closet is really maximized. I want this! Can't wait to read the next post on how you did it all!

Oh Lisa, thank you so much!!! I think you would LOVE this system in your home, and with your talent it would look incredible! If you haven't yet, check out their website for the PAX closet customizer. You can plug in your closet dimensions and drag and drop different product to customize it to your needs. It's so fun to play around with!